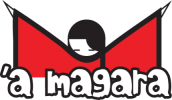 Who we are
One company, three people, a lot of beer …
You can't born brewer or improvise to be a brewer, you become a brewer after years and years of homebrewing, many recipes prepared at home and shared with friends and lots of craft beers, carefully tasted, from all the world.
And why a brewer gets in a company with two women?
These two women are married with two brothers who, after developping a passion about the craft beer movement, they decided to inform themselves and prepared to try to understand if there are possibilities to invest in a brewery in Calabria. Obviously also the two women (who love the beer!) got into the beer world and they started to attend courses and to gain experience in this field.
Life has bump us into each other and our common passion let us imagine a project that so was born … between a beer and another one! Caught the first opportunity, we realized our idea: so 'A Magara was born in 2012!
The three partners, Asunción Yanútolo Fernández, Eraldo Corti and Nicoletta Ziosi, want to present as follows: